Ayça Ayşin Turan and Alp Navruz share the lead roles in Star TV's new series Ada Masalı, which draws high attention. Both the lead actors have excellent chemistry on display, making the series swoon-worthy. You can see wonderful images in between, you can lose weight as your inner fat melts in romantic love scenes. So many viewers have wondered if, in real life, they are dating.
Before we jump into the topic, we'd like to remind you, one of Ada Masalı's cast Rami Narin, who plays the character of Alper in the series, everyone is wondering who Rami Narin's girlfriend is. All we know is that he isn't open about his girlfriend or maybe he is currently single.
So let's find out who dated who!
1. Alp Navruz & Alina Boz Breakup
Some Fans of the 'Elimi Bırakma' series assumed that Alp Navruz dated Alina Boz or they had a relationship. But that's not true after all. Because Alina Boz has been in love with Mithat Can Özer for a long time, who is 17 years older than her.
On the other hand, Navruz had a love affair with Başak Parlak, in December 2017 but they broke up in 2018. He also dated Burcu Binici, and Aslışah Alkoçlar in the past.
The most interesting part is – Alp Navruz broke up with his 'Miss Turkey' girlfriend, Ebru Şam, in June 2021, and that same month he started playing his role 'Poyraz' in Ada Masalı with Ayça Ayşin Turan.
2. Ayça Ayşin Turan & Aras Aydın Breakup
Everyone is mesmerized with Haziran in the Ada Masalı series.
In the past, Ayça had a dating rumor with Furkan Andıç because of their steamy kiss scene in the series, Meryem and this scene made fans crazier to see them together in real life.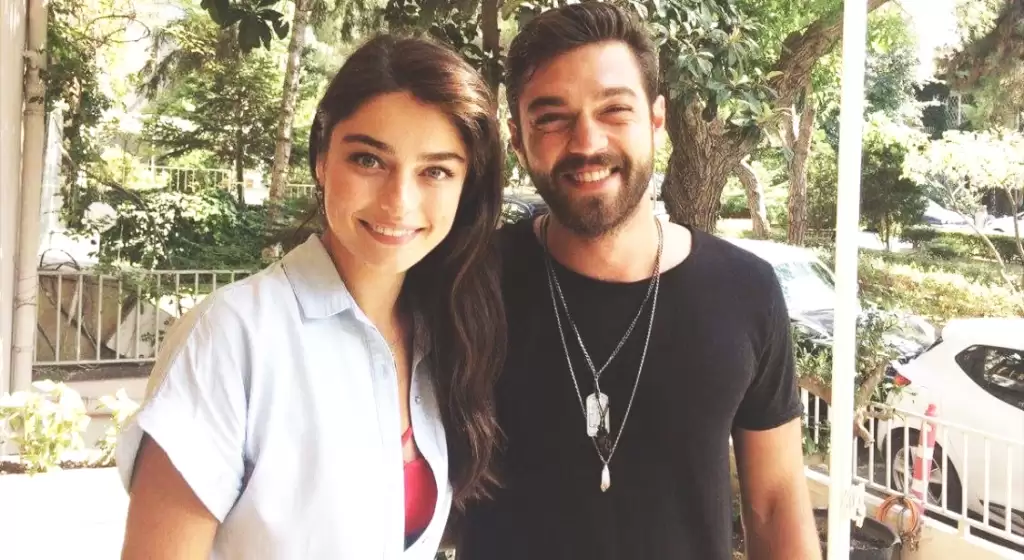 But in reality, Ayça found her true love with her fellow actor Aras Aydın, who played the love interest of Turan in the "Altınsoylar" series. They were together for a while and lived together, but sadly they broke up in 2017.
After falling in deep love with the PoyHaz couple, the audience curiously began to search for the answer to the question Alp Navruz and Ayça Aysin, are they dating in real life?
3. Beril Pozam & Arda Koray Özmen Breakup
Beril Pozam, who played the character of Idil in the Ada Masalı TV series, turned out that she was in love with her co-star Uğur Uzunel, who had previously acted in the TV series "Afili Aşk".
According to the news of Snob Magazine; A surprise development took place in the private life of Beril Pozam, who gained fame with the character of "Nazmiye" in the TV series Afili Aşk.
Pozam also dated previously with Arda Koray Özmen who is involved in the real estate and insurance business. But in 2020, it turned out that Pozam broke up with his lover Özmen quietly. Pozam gave no separation statement after she broke up with him.
4. Cem Anıl Kenar & İlayda Çevik Breakup
Cem Anıl Kenar and İlayda Çevik, who played the characters of Murat and Berrak in Sen Anlat Karadeniz series, became lovers. But their love didn't last long.
According to TV100, there is another newborn love on the set of the Ada Masalı series.
Özge Demirtel, who gave life to the character of Biricik in the Ada Masalı series, lost her heart to her co-star Cem Anıl Kenar, who played the character of Hakan in the same series. It has been learned that the relationship of the young lovers of the series has just begun.
We don't know if it's the magic of Izmir or the story of the series, but it seems like we're hearing more love messages from the set of Ada Masalı!
Who is your favorite couple
in the Ada Masalı series?
Let us know in the comment section.