Sen Çal Kapimi is a Turkish romantic comedy-drama airing on Fox TV. While pretending to be engaged, Serkan & Eda begin to have a passionate, challenging relationship that will make you forget all they know right. Because love is hard. And that's why it's amazing.
Both the lead actors have excellent chemistry on display, making the series swoon-worthy. You can see wonderful images in between, you can lose weight as your inner fat melts in romantic scenes.
Before we jump into the topic, we'd like to remind you, one of Sen Çal Kapimi cast Bige Önal, who plays the character of Selin Atakan in the series, has been in love with Aras Bulut İynemli for 5 years. She has no break-up record until 2021.
1. Hande Erçel & Murat Dalkılıç Breakup
Hande Ercel, who portrayed the main lead female character Eda Yildiz in the series.
When fans thought that the beautiful actress who was expected to get married in 2020, had announced the news of her separation from Singer Murat on her social media account and ended their 3 years relationship.
In September 2020, Hande and Murat met at their mutual friend's wedding. Murat sang for the couple after the wedding ceremony, looking at Hande Erçel, sang his song 'Hasret Geceleri – Longing Nights'.
After talking with journalists, Erçel said,
We are not resentful. Since we have many mutual friends, you will see us together very often.

Hande Erçel
The departure of Hande Erçel from Murat Dalkılıç a while after the start of the series also contributes to this. It is claimed that Hande Erçel and Kerem Bürsin, who took part in the same project after the separation, had a love affair.
2. Kerem Bürsin & Serenay Sarıkaya Breakup
Kerem Bürsin, who portrayed the main lead male character Serkan Bolat in the series. Bürsin and Serenay Sarıkaya met on the set of the commercial they played together, and they started to live in love.
The couple, who managed to attract lenses throughout their relationship, ended their 3.5-year relationship with a surprise decision.
Serenay Sarıkaya's sailing for a new love with Cem Yılmaz has closed Kerem Bürsin's notebook. Kerem's words about the couple –
I said I was going to say, and they should be really happy. I ask you not to get me into such things anymore.

Kerem Bürsin
3. İsmail Ege Şaşmaz & Ela Topçuoğlu Breakup
İsmail Ege Şaşmaz, who portrayed the character of Kaan Karadağ in the series. Ismail had been in a relationship with Ela Topçuoğlu (2013-2015) and Dila Danisman (2016-2020).
About his separation, İsmail said, "There is love" on a question about his girlfriend Ela Topçuoğlu and said –
I had a girlfriend. We were together 1.5 years ago before the series started. She also knew my hard days, right now with me. Love is important, but acting is more important to me. When I wanted to be an actor, there was no love. This is my dream I want to make. That's why I never quit acting for love.
Currently, as of now, he is married to Hande Ünal in 2021.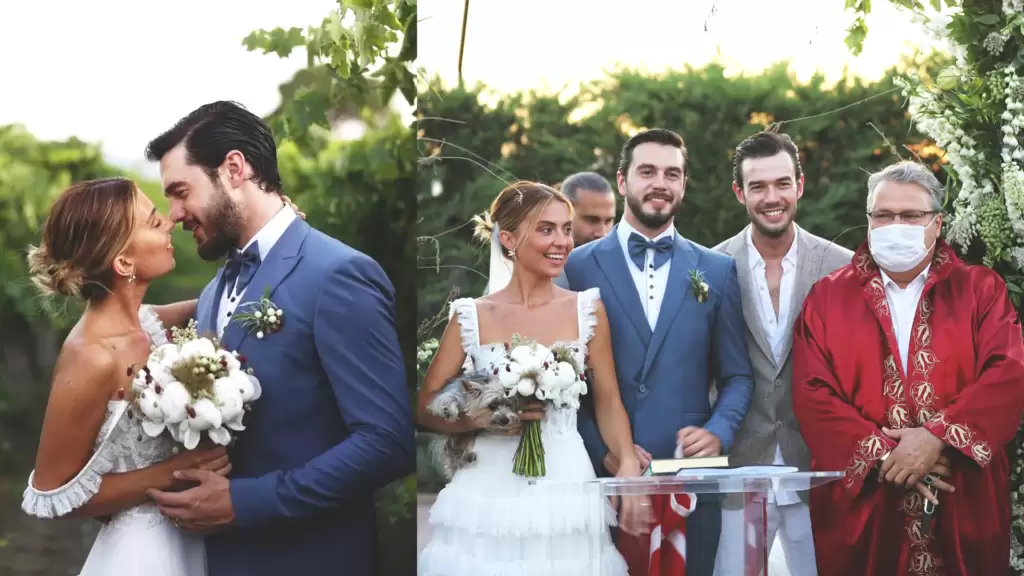 4. Melisa Döngel & Ekin Mert Daymaz Breakup
Melisa Döngel, who played Hande Erçel's close friend Ceren Basar in the series. According to the news of the 'Magazine Line' that appeared on TV100;
It turned out that Erçel and Döngel had a common point and they loved the same man in the past. Hande Erçel had a love affair with Ekin Mert Daymaz during the period she starred in the TV series "Aşk Laftan Anlamaz".
Melisa Döngel also had a love affair with the handsome actor last summer and then she left.
Comment us who is your favorite Turkish actor and why?