It's been a while since we were this excited about a leading duo. It was claimed that the love of Alp Navruz and Ayça Ayşin Turan, who stars in the TV series "Ada Masalı", is real. Two famous actors who give life to the characters of Ada and Poyraz in the series reflect the summer energy to the audience in a beautiful way. 
According to the allegations; The couple has been together for a while and spent all their holidays together in secret. The duo, who had been posing on social media accounts for a while, denied the love between them at first. However, according to the allegations; love has already covered the chimney.
Therefore three FAQs are very common. Which are –
1. Is Ayça Aysin Turan single or dating now?
Ayça Aysin Turan is rumored to have hooked up with Özcan Deniz in 2014. She also had a dating rumor with Furkan Andıç. Their kiss scene in the series, Meryem made fans crazier to see them together in real life.
Ayça Ayşin Turan and Aras Aydın, who played the two lovers in the "Altınsoylar" series, brought their relationship to real life. The news about their relationship first caught public attention in 2017. They were together for a while and lived together, but sadly they broke up mutually.
It seems like our eligible girl needs to find her true love or maybe she already found it, who knows!
2. Who is Alp Navruz's girlfriend?
The relationship rumors were born shortly after Alp Navruz broke up with fellow actress Ebru Şam. The actor and the former Miss Turkey 2009 were photographed together in April 2020. Despite the images together, the couple preferred to remain silent. They didn't confirm their relationship until September of that same year. Unfortunately, their love didn't last long.
Navruz shared,
Until the age of thirty, there was no woman in my life who would arouse romantic feelings in me. I never experienced the strong love we read about in novels. By nature, I'm quite cold and reserved, a bit pessimistic. And I'm so preoccupied with work that I can't get time for private life.
Alp Navruz broke up with his girlfriend Ebru Sam in June. And that same month he started shooting his new series Ada Masali with Ayça Aysin Turan.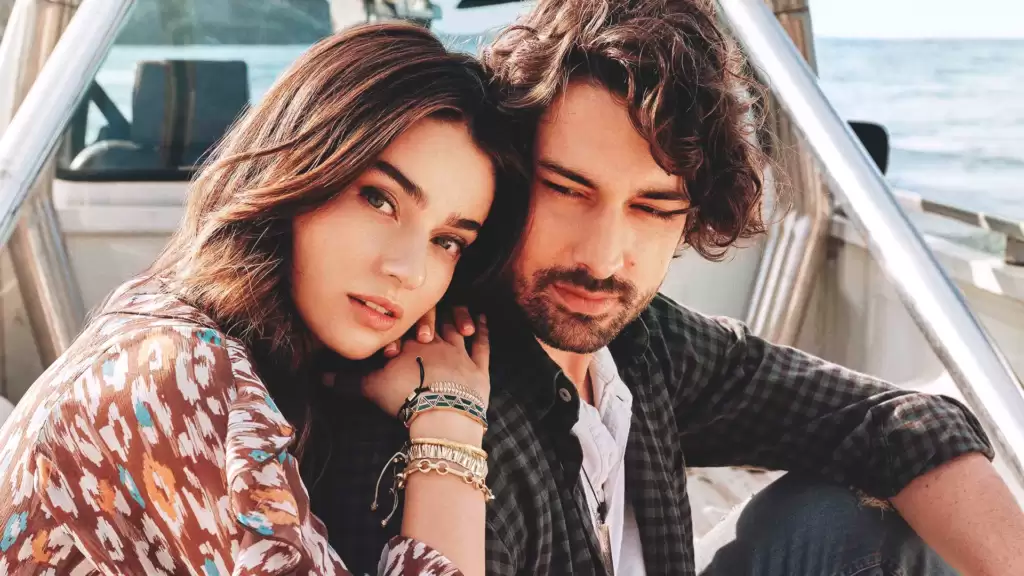 3. Are they in a relationship or not?
Ayça shared a recent photo with her fans on Instagram where she wore a deep blue hoodie with a two-word caption and a love emoji. If you guessed, you guessed it right. Now the word includes, 'AN' which stands for Alp Navruz.
Turan also carried a photo taken by her co-star on her Instagram account. Alp Navruz, on the other hand, made a funny comment under the photo, 'How did I fit the sun into your pout'. The humorous dialogue between the two also made the fans laugh.
Alp Navruz and Ayça Ayşin Turan have shared their first photo together on their social networks. This sharing has fueled the rumors of a courtship that everyone takes for granted in Turkey.
However, the couple wanted to play the game and have accompanied the image with hashtag #poyhaz.
The lovers kept their relationship secret so that the series they were working on would not be adversely affected by this situation. They began to spend the days when the set was interrupted in the ongoing shootings in Seferihisar, without the knowledge of the team.
It was claimed that the duo was seen boarding the boat with close friends. They spent the last weekend alone in Alaçatı. It is not yet known how long the couple Alp Navruz – Ayça Ayşin Turan will hide their relationship.