There is thought to have a romance between them, but this is not what it may seem.
Now – right after watching the series Sen Çal Kapımı you might come up with the idea of what they did in the series which is quite fun to watch and how far it went in their private life. Hande Erçel & Kerem Bürsin finally premiere their series Sen Çal Kapımı. It seems like celebrity couples are getting engaged left and right, and Turkish actress Hande Erçel is the latest to say YES.
Hence fans are now wondering, Is Hande Erçel dating Bürsin?
Nevertheless, there are so much gossips about the pair, which means this relationship needs to be confirmed. Therefore, it is really difficult to follow their romantic status.
Therefore three FAQs are very common. Which are –
1. Are they in a relationship or not?
Love rumor between the famous Turkish celebrities brought about excitement. Are rumors true?
Hande Erçel & Kerem Bürsin, the leading actors of Sen Çal Kapımı, recently made a joint broadcast where they asked each other questions.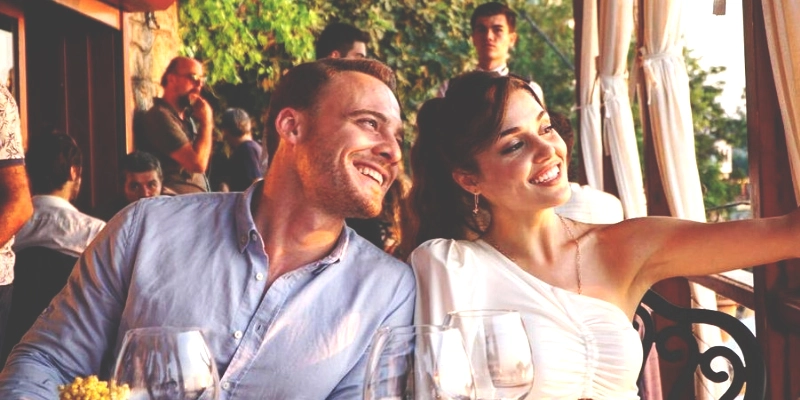 Kerem Bürsin asked Hande Erçel :
Who was your favorite partner?
The dialogues that he developed upon his attention drew quite a lot of attention. The question that surprises Hande Erçel from Kerem Bürsin :
You can't ask!
But he replied :
Okay, you are my favorite partner
In order not to be in a difficult situation. Hande Erçel asked the same question to Kerem Bürsin but received a political answer.
Every partner I worked with was very special
said Bürsin.
2. Who is Hande Erçel's long-time boyfriend?
The Güneşin Kızları actress confirmed to ET in Arabic that the Turkish star & her long-time boyfriend, singer Murat Dalkılıç are officially engaged. It is said that they are currently preparing for their big day while getting things in order to move into their marital house.
The couple recently showered each other with love on social media in celebration of Valentine's Day 2020. Murat shared a loving picture of him and his now fiancé, Hande which he captioned:
Everyday is our day! How could it not be…
Meanwhile, Hande took to Instagram to share a photo of her and Murat laughing during a ski trip.
3. Who is Kerem Bürsin dating?
Kerem Bürsin left her 3-year-old lover Serenay Sarıkaya in 2019. It was claimed that there was a rapprochement between Aslı Turanlı & Kerem Bürsin. However, the actor hasn't been in a relationship after long-term love with Serenay Sarıkaya.
But love rumors about Demet Özdemir & Kerem Bürsin fell on the agenda like a bomb. It was revealed that they had been close for some time. The couple, who had also met in the past, began to meet more often through their common friends.
According to the news in Posta; Kerem Bürsin was angry at the questions about Demet Özdemir.
Let's never get into these issues now. There are more important things to talk about.
He took precautions against coronavirus and did not neglect to wear his mask.
Conclusion In 2022
What we are gonna say now will solve every puzzle. Hande & Kerem is committed to each other. So now it is clear that Hande Erçel & Kerem Bürsin are dating for sure.