Attracting attention with her beauty, positive energy, and professionalism, Ayça Ayşin Turan has been admired for her versatile beauty. Talking about Ayça Ayşin Turan's relationship – we all know about her and Aras Aydın, who played the two lovers in the Altınsoylar series, brought their relationship to real life. It was in 2017 when news about their relationship caught fans' attention. Besides they were together for a while and lived together, but sadly they broke up.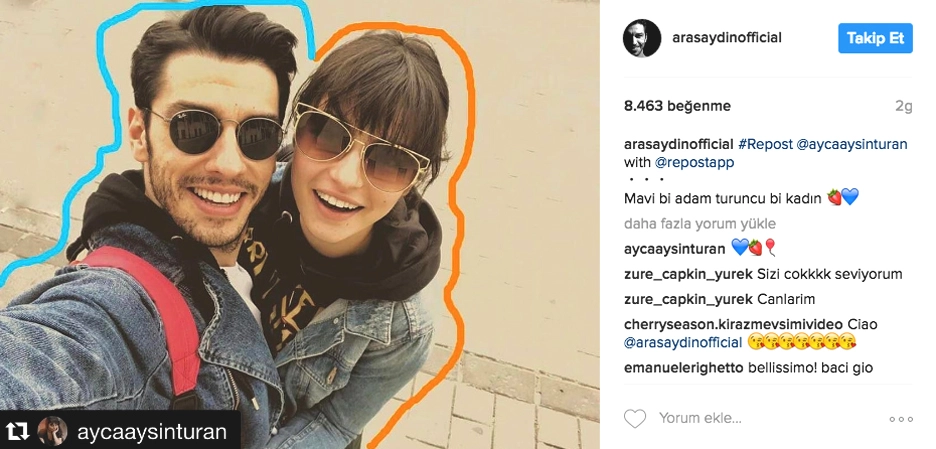 #2021
In 2021, Ayça Ayşin Turan made a cameo with Alp Navruz in the Menajerimi Ara series, where we could see their first meeting. Thereafter Navruz and Ayça showed in the first chapter of Ada Masali that they have natural chemistry, so the rumors of a possible relationship were immediate. At times the duo insisted that there was nothing between them but later admitted they had a love affair. After the series ended, as we've said that the couple carried their togetherness on social media immediately. 
In this case, Ayça shared – 
It is nice to be loved and followed. I never post thinking about how many likes it will get. I'm always a real seeker. In my natural state, I prefer to be whatever I like there too.

Ayça Ayşin Turan
 

 

View this post on Instagram

 
#2022
Barely ten months after the couple confirmed their togetherness, the lovers had to put an end to their relationship. Thus the breakup of the couple caught the fans of the actors by surprise. In a magazine interview, Ayça said,
Love is a serious matter for me. It's about trust and loyalty. Respect is important to me. Sharing the same things, meeting on common ground… It makes me feel like a life companion on a journey. It is not easy for me to forget, but I choose to forgive and leave it behind.

Ayça Ayşin Turan
 

 

View this post on Instagram

 
 

 

View this post on Instagram

 
Hence both of them have deleted all traces of photos together from their social networks and have stopped following each other, just like Kerem Bürsin and Hande Erçel did. However, their breakup has been less scandalous and traumatic than the latter. Previously the couple could be seen together on several occasions, always with a big smile and apparently happy. But ten months after starting that romance, Navruz and Turan ended their relationship.
#2023
According to Posta's news, after the breakup, Ayça was seen with Murat Boz, who had met in O Ses Türkiye. The two recently chatted and danced all night long at a venue in Kuruçeşme. End of the night, Murat Boz hugged Ayça Ayşin Turan, and then he bid Turan farewell to the door. Turan's farewell to Murat Boz caught everyone's attention surprisingly.
Consequently after this event, 'Is a new love born?' came the question. The fact that the duo did not deny the claim of love strengthened the rumors. The handsome pop singer had previously been in love with Tuba Büyüküstün.
Hence fans claimed – Murat is in love with Ayça Ayşin Turan now. Whether it is love or friendship, they managed to keep it away from the eyes of fans for a while. 

Don't miss the video!